Rooty Hill Station and Commuter Carpark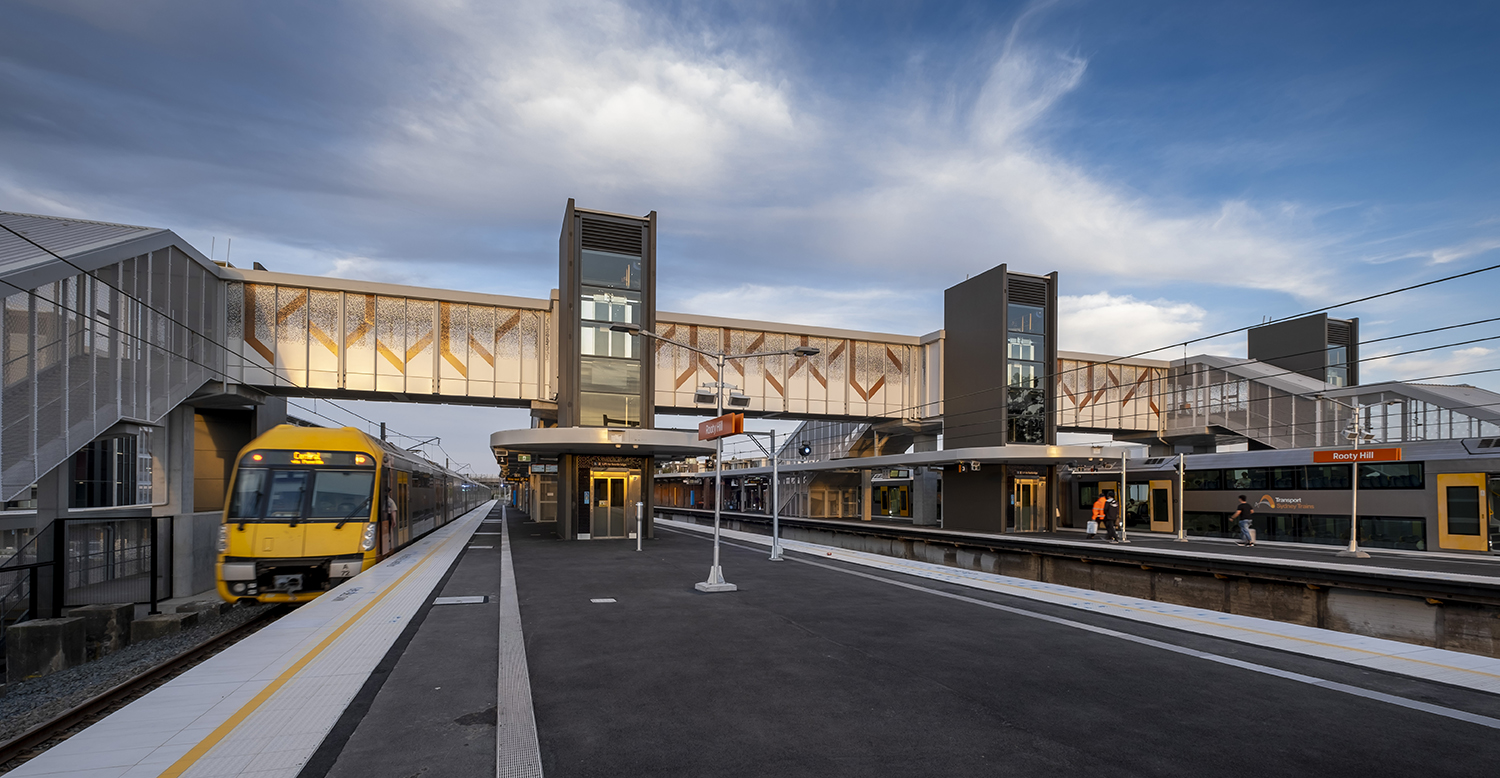 Strategically located on the T1 Western Sydney train line near the junction of both the M4 and M7 Motorway, Rooty Hill Station was identified as a key transport hub for commuters. The Transport Access Program (TAP) is NSW-wide upgrade of key sites across the transport network to be accessible, modern and welcoming.
DesignInc provided integrated urban design, architecture and landscape services to upgrade the station and to design a new six-storey commuter carpark. The finished design offers a range of efficient and secure multi-modal transport options for customers. Station upgrades include a new pedestrian footbridge with four new stairs and lifts providing easy access to all platforms, family accessible toilets on all platforms, larger platform canopies for weather protection, and CCTV and lighting to aid customer safety.
Awards
2022

Outstanding Achievement, Design, Infrastructure Sustainability Council
Location

Dharug Country
Rooty Hill, New South Wales

Client

Transport for NSW, Arenco (NSW) Pty Limited

Value

$55M

Year

2020

Project Contact

Photography

Sandor Duzs, Eric Sierens

Share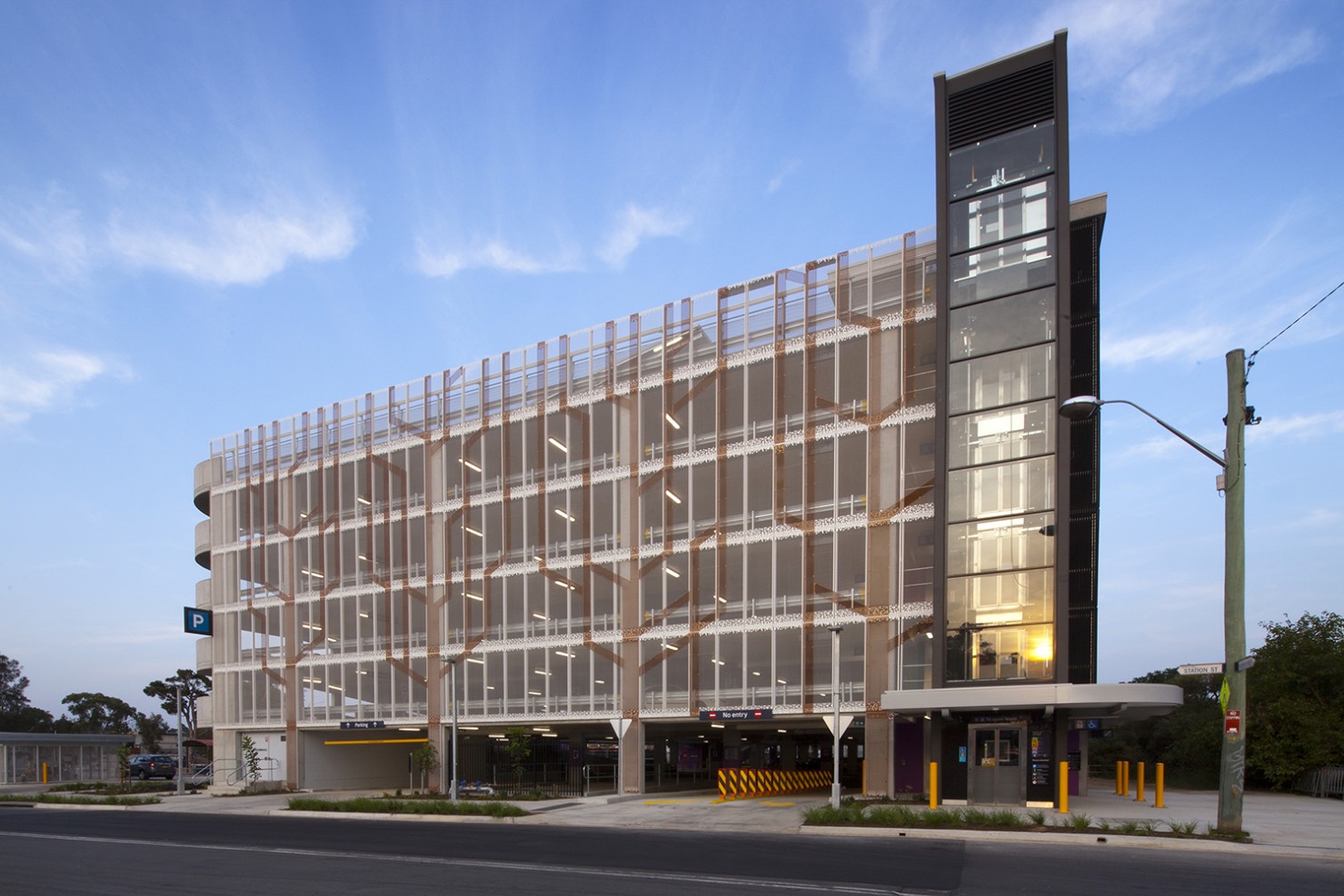 A story of sustainability
The six-storey commuter carpark represents a milestone moment in sustainable design and construction for the NSW Government, heralding a new paradigm for electric vehicle use and transitioning towards 100% green renewable energy future. Providing over 750 new car spaces for commuters – including electric charging stations, accessible and motorcycle spaces – the carpark integrates a wide range of sustainability initiatives. All materials used in the construction are recyclable.
A custom designed roof level steel shade structure supports 2000m2 of photovoltaic cells which generates power for the continuous operation of the carpark as well as for commuters to recharge their electric car batteries pollution free. Storm water is collected, filtered and used to irrigate the gardens surrounding the carpark and the project achieved a 'Leading' Design and As Built ISCA rating.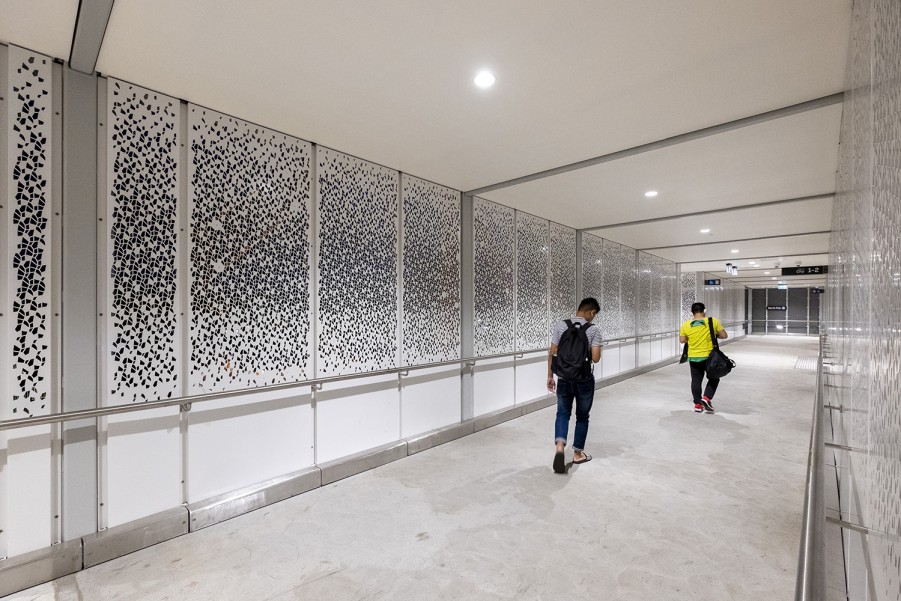 Connecting to place
Rooty Hill Station and the surrounding area have significant tangible and intangible heritage values that are an important part of the project. Rich contextual stories about the place have been integrated into the design through façade treatments on the carpark, the architectural language of the canopies, Aboriginal artworks and interpretive panels.
The carpark and station footbridge are both clad in white perforated aluminium panels, creating a striking visual statement and unifying the connection between the structures. Drawing on the history of the place name – 'Rooty Hill' – the facades feature bespoke patterned graphics; abstracted representations of angled tree roots. Dark grey lift shafts become strong vertical elements that contrast with the crisp brightness of the wall cladding.
As the original terminus of the Blacktown rail line, the station has significant fabric that has been identified and retained, including the Inter War Functionalist Style platform buildings. The style – sometimes termed the P&O or Liner style – features streamlined minimalist forms emphasising strong horizontal lines punctuated by tall vertical shafts. The architecture of the new station platform canopies and lift shafts draws directly on this style. Stories related to the rail heritage are captured in interpretive panels located at the lift lobby areas on the new footbridge.
The station entry precincts have been transformed with the entry plaza to Beames Avenue incorporating a long canopy for shade and rain protection, bicycle parking facilities, casual seating, tree plantings and a circular community ground artwork made from clay brick pavers engraved with 450 handprints of local school children. Access via North Parade to Rooty Hill town centre is now safer and more direct with a new pedestrian crossing, bicycle parking and a protected waiting area for taxi's and Kiss and Ride and bus stops.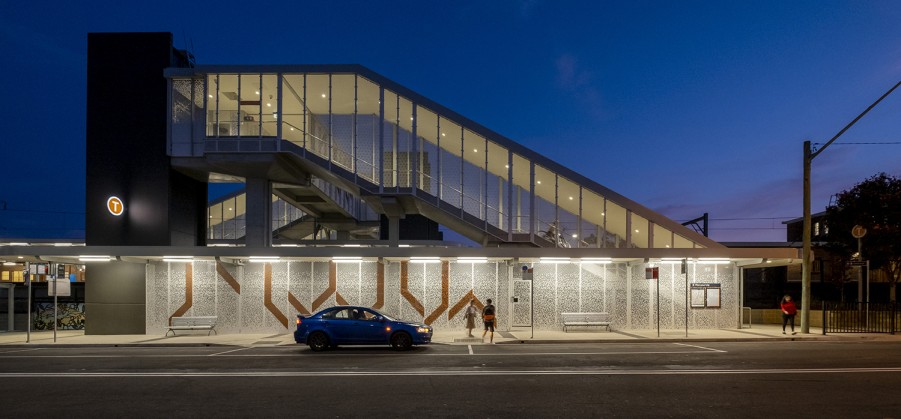 We have all together created something that is not only beautiful with high quality decorative finishes but also very practical, innovative and environmentally sustainable. The beautiful design has Rooty Hill residents feeling proud and safe. A remarkable achievement.

Steven Williams
Construction Manager, Arenco
Indigenous stories
New garden plantings draw on the idea of 'bush tucker' and indigenous food sources and enhance the station precinct. To allow efficient transition between transport modes, a defined pedestrian pathway leads from the station to the commuter carpark. The pathway is lined with a significant artwork, Guru Badu – Deep Water, by local Darug artists Leanne Tobin and Leanne Watson in collaboration with Iraqi born mosaic artist Abbas Makrab and art curator Marla Guppy.
The installation celebrates the relationship between Darug people and the local waterways of Western Sydney, acknowledging the freshwater creeks that were once a place of abundance and home to the Wiannamattigal clan of the Dharug people. For thousands of years Indigenous communities used the creek lines to hunt, fish, gather and farm local flora and fauna. The creeks also represent a traditional north south crossing of Country prior to the current east west rail crossing.
What an amazing transformation…simply awesome. The artwork is beautiful and we have a brand new station. I can't see another station that compares.

Patricia Sarkies
Community member
People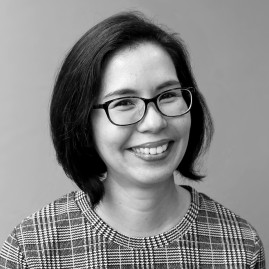 Dida Cristobal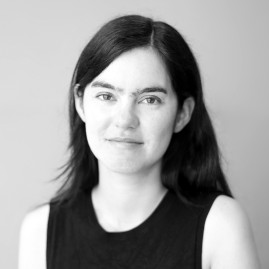 Guadalupe Linares