Gujaga and McCarthy Reserve Precinct

Envisaged as a green spine through the suburbs, Gujaga and McCarthy Reserves are part of a series of parklands in south-eastern Sydney that have been upgraded to provide modern and accessible sport and recreation facilities for the community. The project is a significant park and sporting facility development located in what has become the 'sporting hub' of Rockdale. It offers enjoyable parkland experiences for a wide range of users including families, sporting groups, skateboarders, cyclists, scooter users and walkers.
Integrated design
DesignInc provided integrated urban design, architecture and landscape services for the upgrade the Gujaga and McCarthy Reserve Precinct to be a state-of-the-art sports and recreation facility.
Key features include:
a skate park;
synthetic and natural turf sports fields;
children's play area, children's path, share path;
carpark;
two amenities buildings;
interpretive signage, and
landscape and planting initiatives such as WSUD, hardscape and softscape zones and canopy plantings.
Location

Dharawal, Gameygal Country
Rockdale, New South Wales

Client

Transport for NSW, Bayside Council, Cardno

Value

$18M

Scale

28,000m²

Year

2022

Project Contact

Photography

Brett Boardman

Share
Existing grass fields have been converted to synthetic turf to extend club and competition usage across the seasons and a new mid-size natural turf field will has been installed that can act as much needed passive recreation space. The community offering includes a new regional play space with major sculptural play pieces with an emphasis on inclusive play elements. The park also includes nature play, children's bike path, a shared pathway for cycling and pedestrian use across the park joining main roads, and a skate park suitable for skateboards, scooters and BMXs.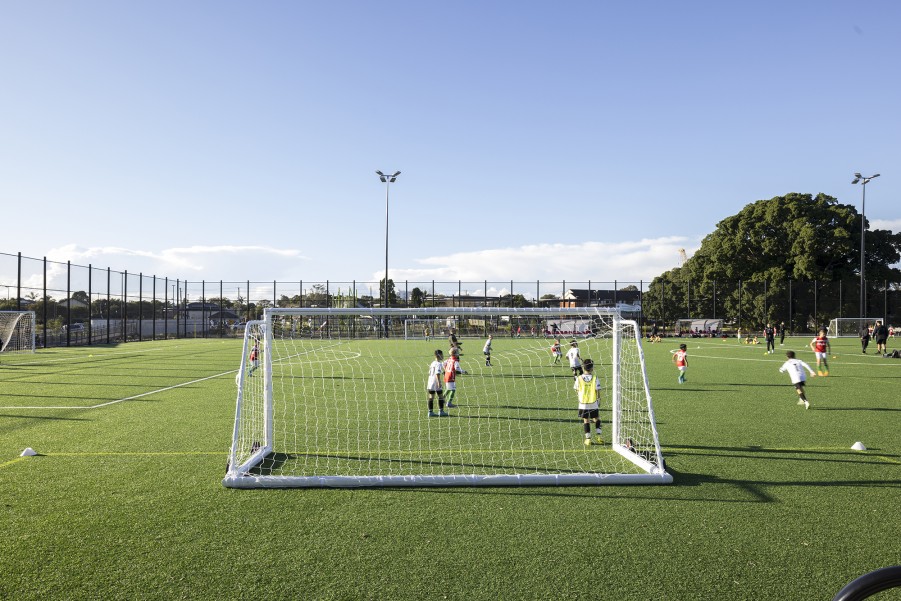 Evolving ecologies
Taking cues from the unique ecology of the surrounding Rockdale wetlands, the design incorporates a range of Water Saving Urban Design (WSUD) principals. Vegetated bio-swales bring the wetland ecology into the site and facilitate the drainage and filtration of hard stand areas. A large number of diverse plantings—including canopy trees—help reduce urban heat island effects while providing shaded ambience to paths and passive recreation zones and hard stand areas.
Once established, these landscape initiatives will create comfortable micro-climates so the parkland and facilities are comfortable environments for users to enjoy year-round.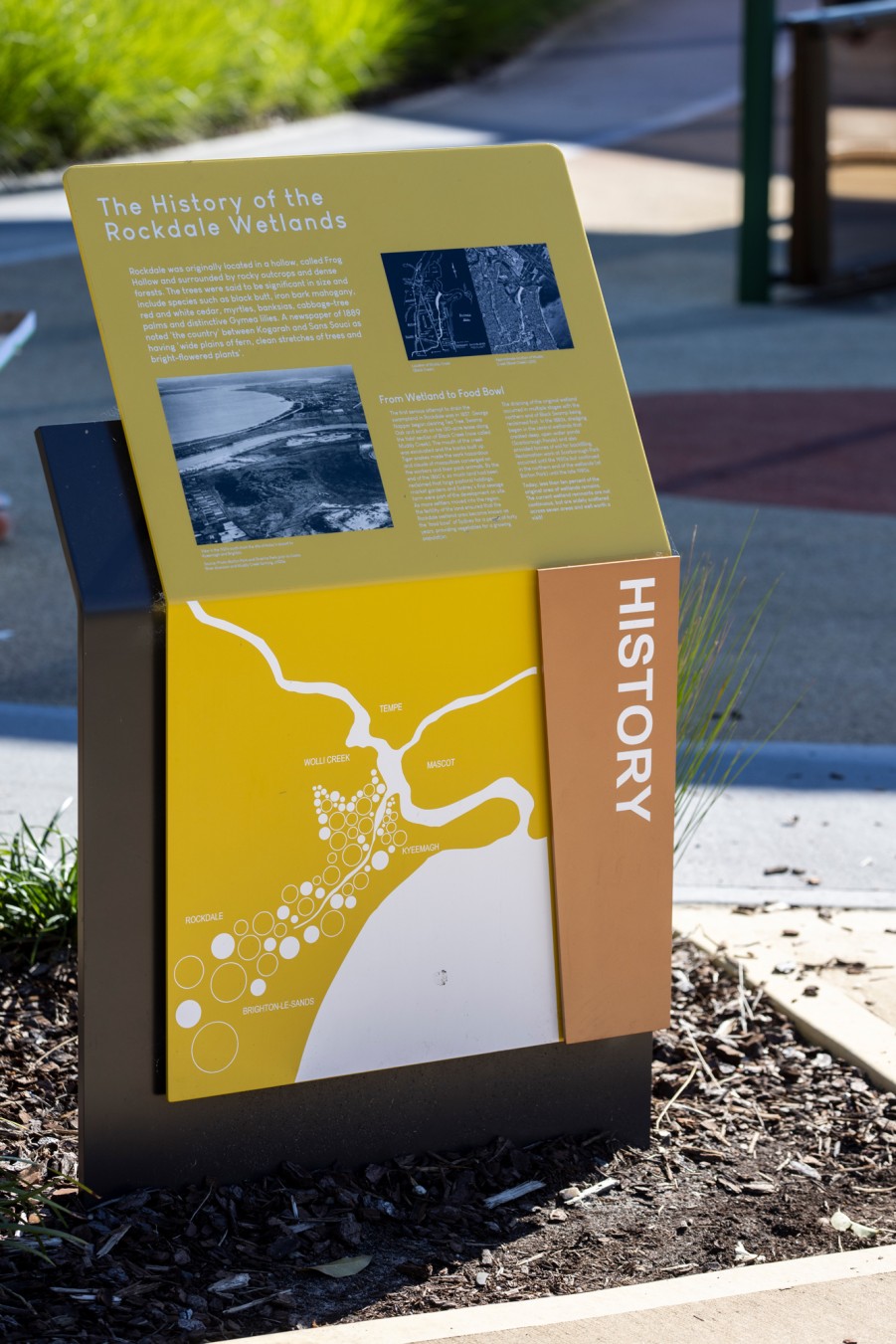 Stories of the local wetland ecology, site history and impact of modern development on the area have been captured in the placemaking strategy and integrated into the design. A suite of high end sculptural GrassArt play equipment (from Spielbau in Germany) ensure a unique and seamless transition of significant play equipment and wetland. Interpretative signage and artwork talk about the endemic landscape character, significant local flora and fauna and provide a historical timeline of the wetland creek vegetation.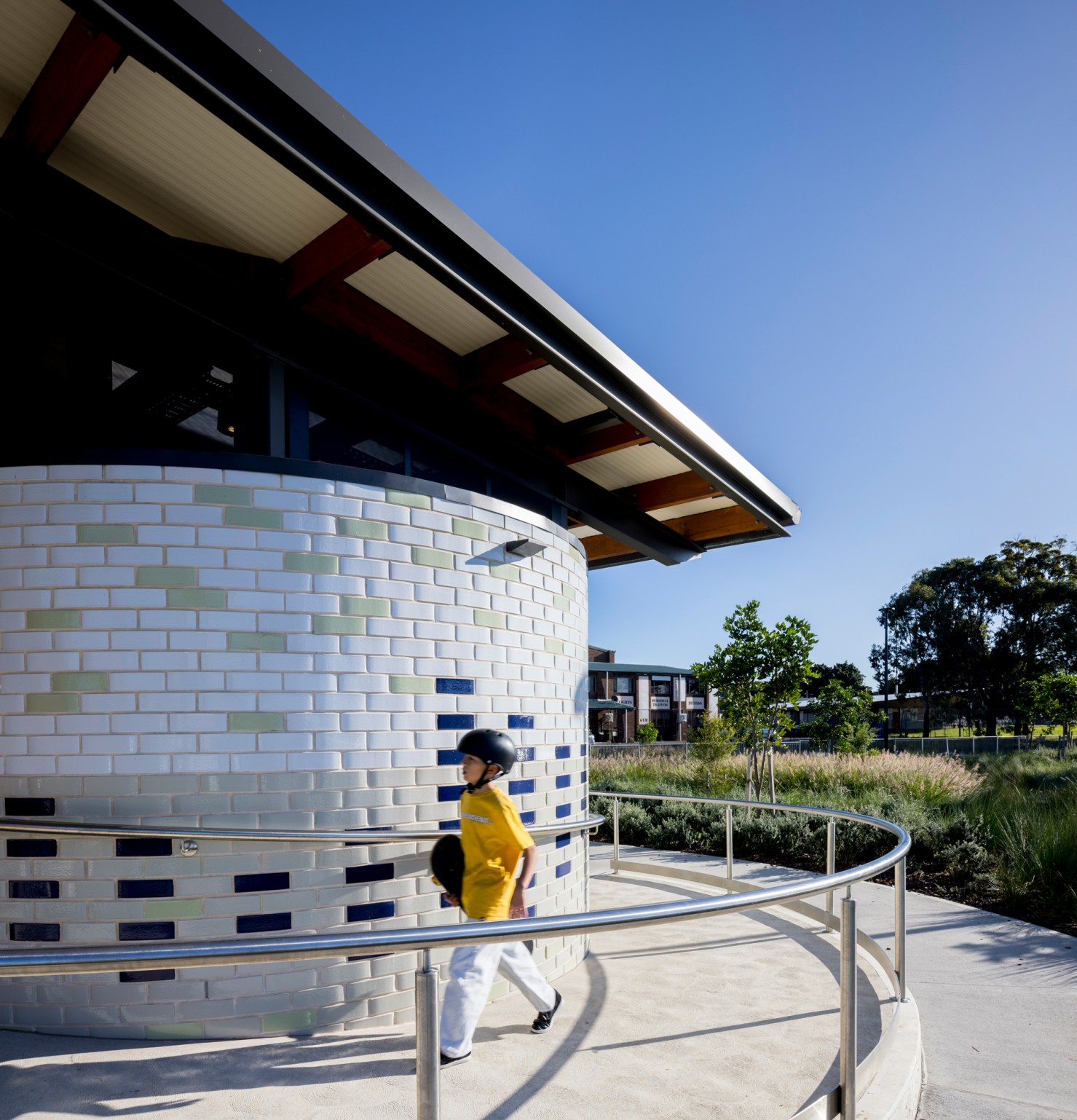 People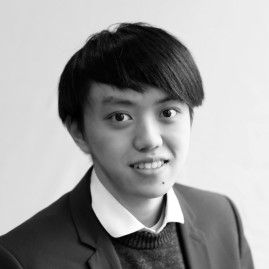 Aiden Wong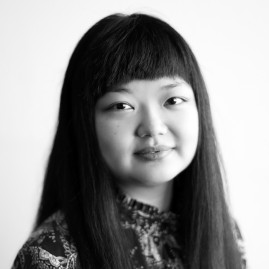 Wenyi Li