LMS Energy Headquarters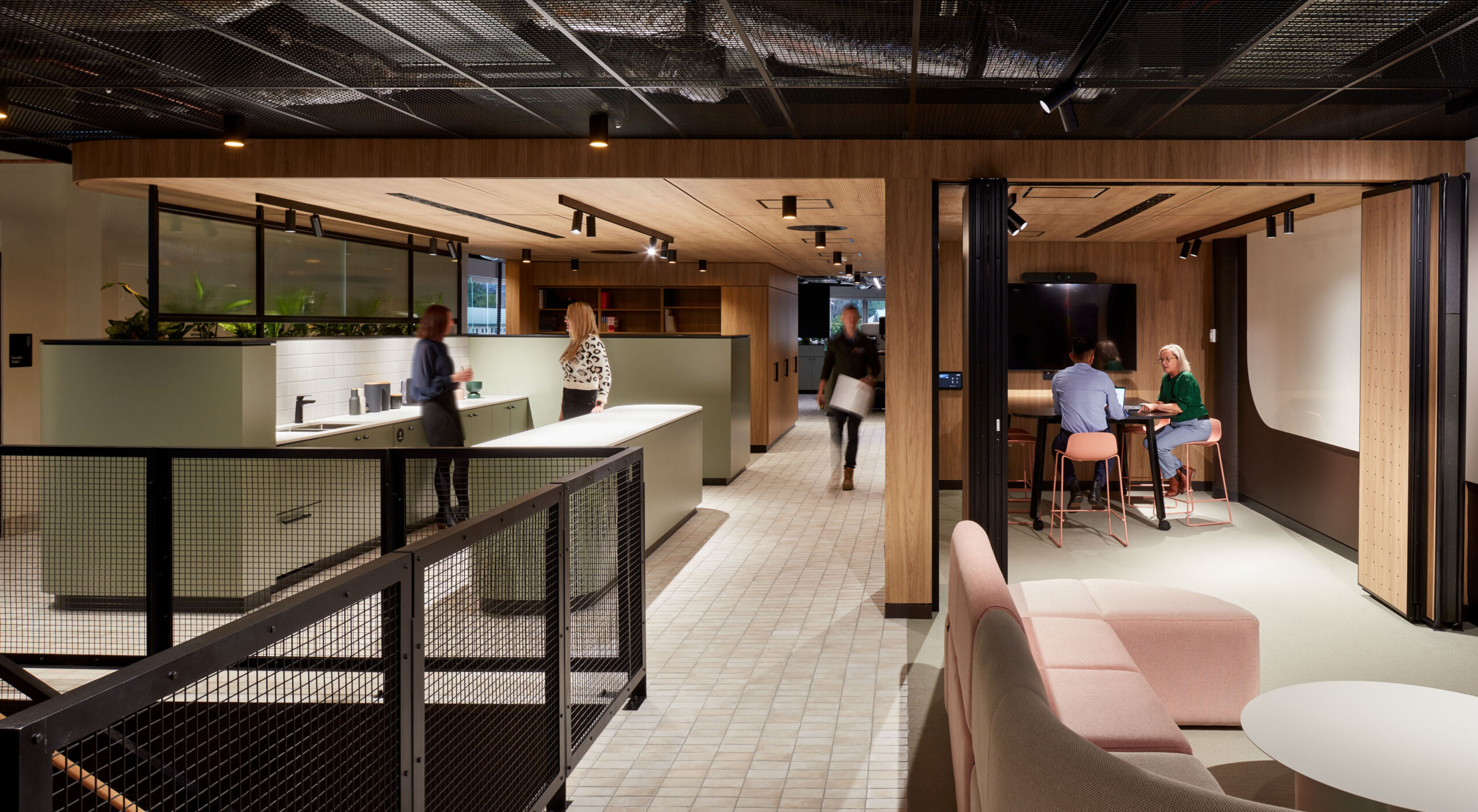 LMS Energy Headquarters has relocated to Adelaide's city fringe, merging conventional and separate offices into a hybrid workspace that reflects its innovative spirit and embraces the idea of a 'workplace as a home.'
LMS Energy is Australia's leading landfill biogas company and one of the most significant emissions reducers in Australia, offering a dependable source of sustainable power while reducing over 4 million tons of greenhouse gases from being released into the atmosphere each year. Its existing Adelaide-based head office was outdated and segregated, and split between two separate buildings it didn't encourage interaction and teamwork between staff. Due to the limitations of the current workplace, and the company's growth, LMS Energy acquired a base building to reimagine a flagship head office that reflects its vision and values. DesignInc consulted with staff across all levels of the business in an extensive process to provide LMS Energy with a detailed brief and workplace strategy that could be adopted nationally, starting with Adelaide as the pilot project.
The new workplace needed to be flexible and adaptable to accommodate LMS Energy's rapid expansion and provide open-plan workstations zoned for specific functions within the business. The office would also need quiet and private areas for staff to take breaks from their desks and ease the transition to an open plan model. A spacious kitchen and breakout area would provide a retreat for staff and act as a social space for interaction across departments or large gatherings with industry partners and interstate colleagues. The goal was to create a workplace that fosters collaboration, increases employee satisfaction and supports the growth of LMS Energy.
Location

Kaurna Country
Wayville, South Australia

Client

LMS Energy

Value

$3.2M

Scale

880m²

Year

2023

Project Contact

Photography

Sam Noonan

Share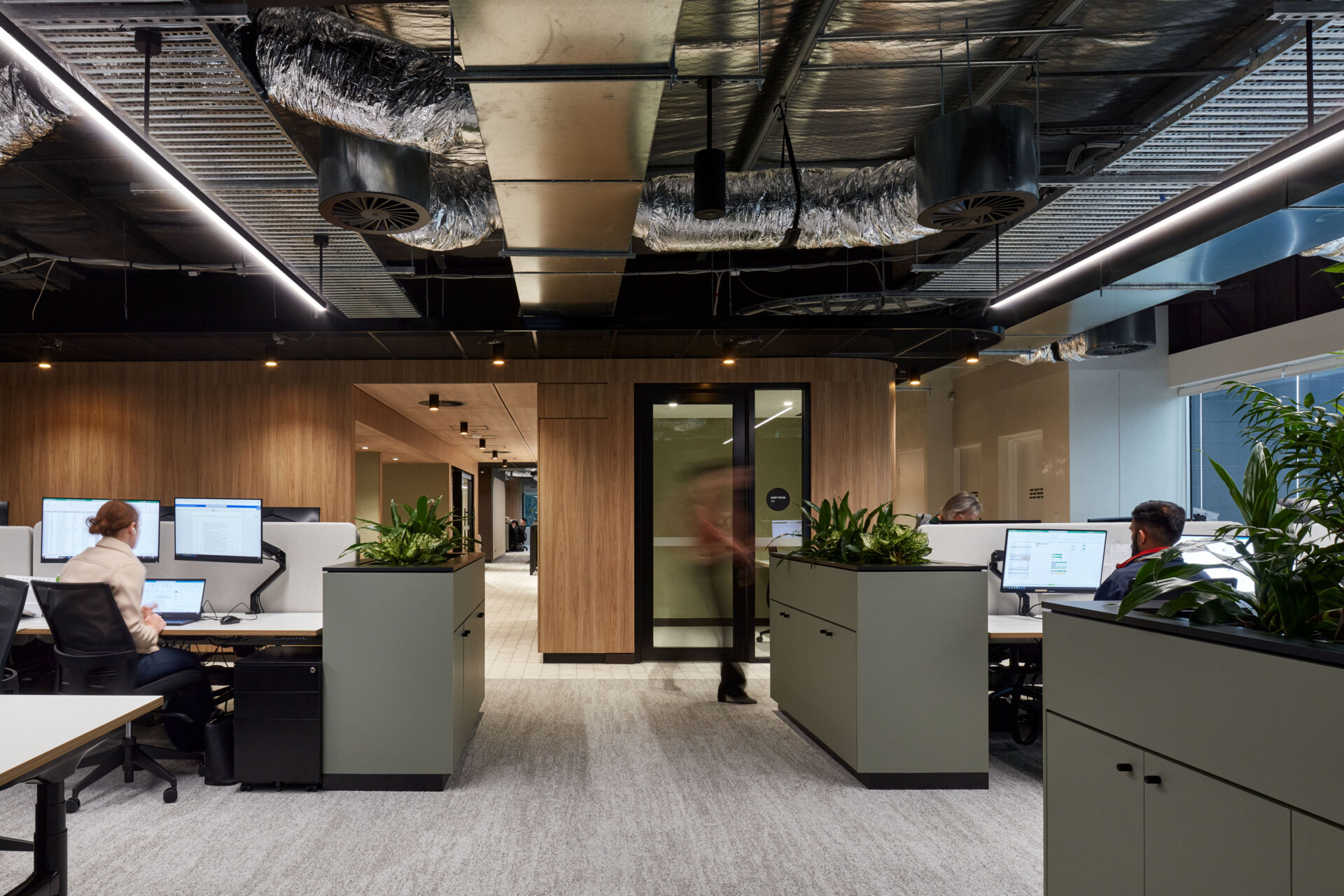 A hybrid workplace that prioritises employee satisfaction
LMS Energy Headquarters provides working accommodation for 50+ staff spanning two levels and connected by a central feature stairway and communal zones. The open plan offices support a variety of work settings, such as quiet rooms, booth seating, formal meeting and informal collaboration spaces designed with careful attention to detail to provide an enhanced user experience. The contemporary working environment promotes teamwork and, aided by technology, this model offers support for both on-site and remote employees with the flexibility to move between the two work styles. A large kitchen and breakout space on the lower level provides a multi-functional space for food preparation and dining, 'cafe-style' meetings, recreational activities like table tennis and gaming, and gathering people together from interstate or industry.
The new office is a home away from home for our employees and has brought many staff back to office after the pandemic.

John Falzon
Chairman, LMS Energy
Combining industrial style with biophilic design
The open floor plan incorporates rounded modern timber elements and an abundance of greenery within the brutalist aesthetic of the repurposed building. The exposed services, black metal elements and polished concrete floors pay homage to LMS Energy's industrial enterprise and honour the building's original central stairway and large windows facing the city parklands. The design leans into the inclusion of soft colours that provide a feeling of safety, calm and comfort to inspire office workers to return to the office post-pandemic.
The biophilic design aims to connect humans with nature by using elements like plants and natural lighting sources that reduce stress levels in the office and promote wellbeing, creativity, and productivity. The fitout includes customised signage and modular office furniture that blend seamlessly with the design, and the spatial planning accommodates tech equipment without compromising the overall aesthetic.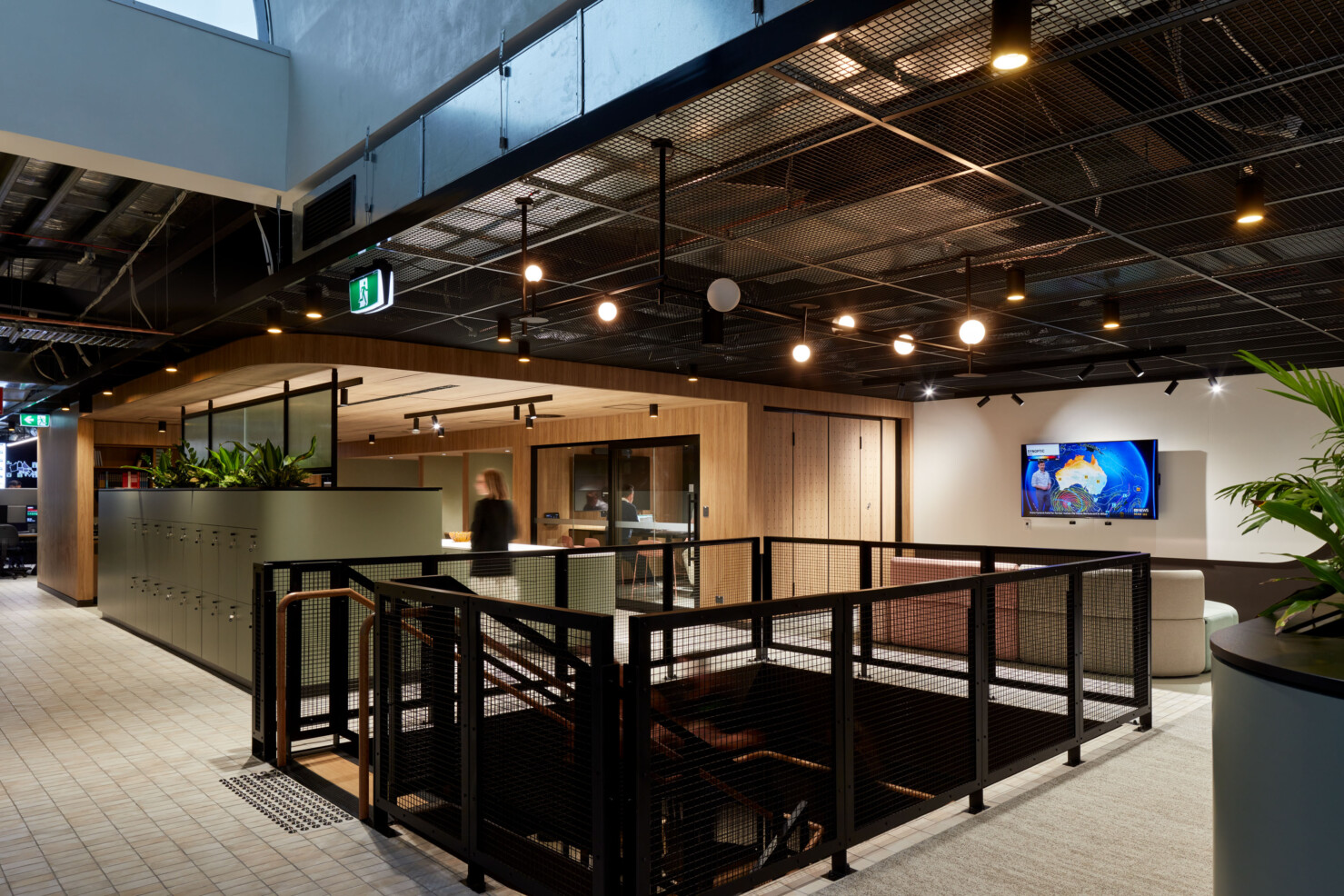 We could never have anticipated that the final product was even better than what we imagined. Our new office is a beautiful, practical and contemporary workspace that has everything we could ever want or need.

John Falzon
Chairman, LMS Energy
LMS Energy will attract top talent and optimise resources in its new adaptive and agile hybrid workplace. Combining the best of modern technology and physical comfort the new headquarters boosts employee productivity and overall quality of life in the work environment.
People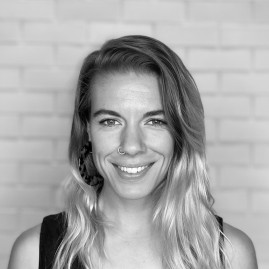 Amie Blanden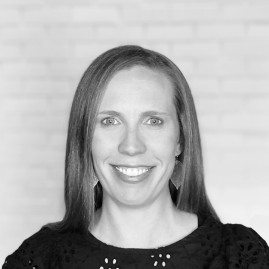 Jasmine Booth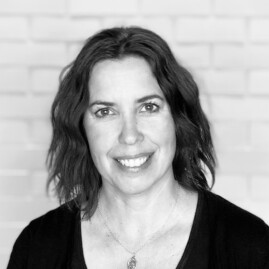 Kate Fitton