A Nurturing Early Care and Learning Centre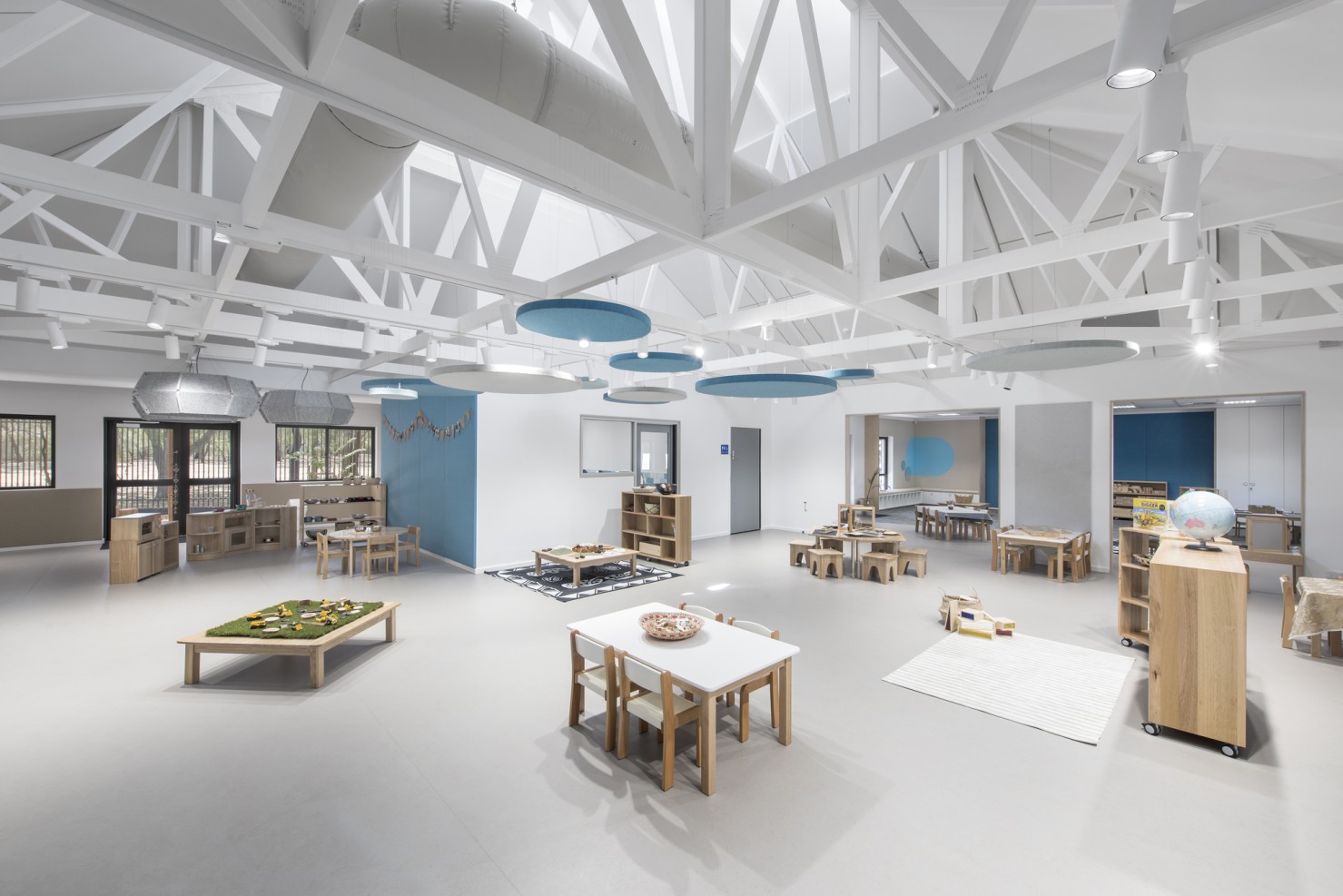 Catholic Education SA engaged DesignInc Adelaide to transform three existing buildings on the Holy Family Catholic School campus into a new early care and learning centre. The adaptive reuse of the separate school buildings, which included classrooms, the former school library and the canteen kitchen, posed a challenge for creating a cohesive, contemporary environment suitable for early learning. DesignInc utilised the characteristics of each building to create different types of functional learning.
The functions are naturally divided across the three buildings. One building is used for administration, and another classroom is the three-year-old's learning area. The library, with vaulted ceilings and exposed trusses, contains a learning area for four to five-year-old children. Kitchen activities create the opportunity to integrate cooking into the learning experience in a hands-on manner. Playspaces are woven between the buildings and create intuitive navigation between spaces. Landscaping and hardscaping provide a variety of outdoor shaded play areas and have direct connections to indoor learning spaces.
The natural progression from the smaller building to the larger building suits the activities undertaken in each space. Intimate areas for younger children can be divided off for sleeping or quiet time. Larger, open-plan areas for older children cater to group activities and encourage collaboration. Mobile furniture pieces allow every space to be highly flexible and reconfigurable to suit the day's activities.
Transforming an existing transportable building and the former school library building into a contemporary and cohesive early learning environment was a challenge for the project team from the outset. We worked diligently to ensure all spaces were finished to a high quality capturing an abundance of natural light with meaningful connections between indoor and outdoor play spaces.
Materiality, joinery, colour and lighting is designed to foster a playful, calm and nurturing environment. The neutral palette of timber, white and charcoal is enlivened with pops of blues and greens which highlight key spaces. The base palette also provides a quiet backdrop for the toys, activity stations and interactive surfaces that stimulate interest and engagement.
Acoustics are important in an environment with 80 young, active children and heavily influenced the choice of floor finishes, ceiling treatments and wall linings. Oversized acoustic discs suspended from the trusses absorb noise, define the older children's activity zone and provide a focal point of interest.
Children and their parents and carers are enjoying the new centre. It's a nurturing, inspiring and engaging environment that provides a familial and community experience.